Garlic & Rosemary Roasted Cornish Game Hens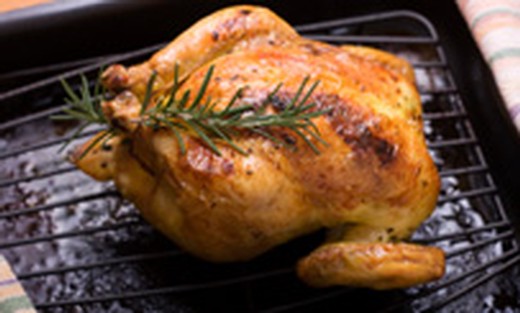 Recipe Date:
August 3, 2017
Measurements:
Imperial (US)
A lovely alternative to roast chicken, this is a delightful cold-weather dinner, especially served with a glass of Mettler Epicenter Zinfandel!
Ingredients
2 Cornish Game Hens (or 1 whole roasting chicken)
4 Rosemary branches
4 Cloves of garlic, sliced
4 Cloves of garlic, crushed
3/4 cup Extra virgin olive oil
Kosher salt and freshly ground black pepper
Directions
Wash and pat dry your game hens. Then generously salt and pepper the hens inside the dried cavity only. Take 2 branches of fresh rosemary and 4 cloves of garlic that you have sliced. Put some into the cavity of each bird and tie the legs together with twine. (If doing a whole chicken instead of hens, use all the garlic & rosemary in the cavity of one bird.)
Whisk together olive oil, 4 crushed garlic cloves, rosemary leaves (stripe from stems of 2 branches & chopped fine). Take 1/2 of the oil mixture out & rub the olive oil mixture all over the bird, even under the skin. Keep the 1/2 unused oil clean to use later. Wrap and refrigerate overnight.
The next day use the rest of the oil mixture and rub over the birds again. Salt and pepper the bird all over. Put into the oven at 375 degrees using a V rack in a roasting pan for 50 to 60 minutes. Baste with any leftover oil. Keep an eye on the game hen so it does not overcook. You want the skin to be crisp and golden. Remove when done and let rest for 10 minutes. If your oven cooks hot, you may want to lower the temperature.
If you would like you can take the pan juices, including juices from the birds cavity, add 2 cups chicken stock and reduce by half . Then add 3 tablespoons butter and 1/2 of the juice from one lemon, salt & pepper to taste, and some fresh parsley. Serve with the game hens as gravy to mashed potatoes and steamed broccoli.